Shop From Your Home. Nationwide Shipping Available to your Front Door.
Learn More

Welcome to H-Town!
Texas' largest city and the fourth biggest in the U.S.
Houston is known as the energy capital of the world and is the headquarters for nearly every segment of the oil industry, including production, transmission, technology, supply, and more. The city employs about a third of the state's jobs in gas and oil extraction. Houston's museums are some of the finest in the entire Lone Star State, and the dining and entertainment hot spots are renowned across the district. With more than 2.3M residents, the city is a magnet for pro sports, mouth-watering cuisine, world-class arts, and flourishing businesses. In fact, the U.S. News & World Report ranks it #3 in Best Places to Visit in Texas and #10 in Best Foodie City in the U.S. Truthfully, there's no other place quite like it.
Houston Outdoors
Thanks to the temperate year-round climate, Houstonians love to take their work (and their playtime) outside. A true gardener's delight, the area boasts an average of 300 growing days per year.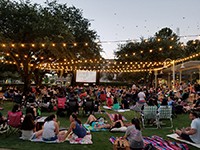 Bring along a blanket or chair and catch a free evening movie at Market Square Park.
Explore the 12-acre Discovery Green park, located downtown, which is always hopping. In the spring and fall, you can listen to live music or attend a monthly market and shop from local craftsmen. In the winter, ice skate on Kinder Lake.
The Houston Arboretum and Nature Center, a 155-acre nature sanctuary, educates attendees on how to protect native plants and animals in the city. Walk the trails (dogs on leashes are welcome) and explore the sanctuary's interactive exhibits, which happen to be free of charge.
The Bayou Bend is a house museum for American decorative arts and paintings. The former home of Houston's civic leader and philanthropist Ima Hogg (1882-1975), the home displays American furnishings, silver, paintings, and ceramics. Leave time to roam the 14-acre property, rich with lush gardens.
March through November, head to Miller Outdoor Theatre to catch a variety of performances ranging from classical music to dance to Shakespeare. The theater is tucked inside Hermann Park and patrons are allowed to picnic with a blanket and chair. BYOB (just no glass containers).
Get Cultured
With 19 museums in four walkable zones, Houston is bursting at the seams when it comes to culture. Here are just a few of our favorites.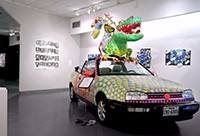 Love cars as much as we do? Then you'll love the Art Car Museum, also known as the Garage Mahal. Dedicated to contemporary art, it's an exhibition forum of local to international artists with an emphasis on art cars that are hardly ever recognized by other cultural institutions.
Space Center Houston is a must-see. It offers extensive fun and engaging science education programs and a spectacular space museum. Space Center Houston is the official visitor center of NASA Johnson Space Center, which is home to Mission Control and astronaut training in Houston, and is a Smithsonian Affiliate museum as well. What makes it so special? It's one of the only places where visitors can see astronauts train for missions. You can get up-close and personal and even touch(!) a real moon rock and take a behind-the-scenes peek of NASA. Wow!
The Menil Collection, nestled in the Montrose neighborhood, is one of the top free attractions in Houston and a true local treasure. The art collection of philanthropists John and Dominique de Menil, it's considered one of the exceptional collections of the 20th century, consisting of approximately 17,000 works of art. The main building houses special exhibitions and the permanent collection. It also serves as an anchor to four other museum buildings: two are dedicated to single artists (Cy Twombly and Dan Flavin), the Byzantine Fresco Chapel, and the Menil Drawing Institute. The Menil Drawing Institute is the first freestanding museum dedicated to modern drawing in the U.S. and has prospered a national profile for exhibitions, scholarship, and collaboration.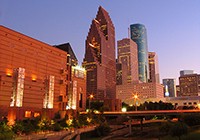 Houston's Theatre District is a world-class attraction and spans 17 city blocks including five premier theater venues: Alley Theatre, Jones Hall, Wortham Theater Center, Revention Music Center and Hobby Center for the Performing Arts. The area also holds seven resident companies of performers, actors, dancers, and musicians.
The Moody Center is a collaboration in the arts, sciences, and humanities. This 50,000-square-foot building acts as an experimental platform, an art gallery, a multimedia facility, theatre, maker space, and more.
Museum/Attraction Free Days
Buffalo Soldiers National Museum: Free Thursday 1-5pm
Children's Museum of Houston: Free Thursday 5-8pm
The Health Museum: Free Thursday 2-7pm
Holocaust Museum Houston: Free Thursday 2-5pm
Houston Museum of Natural Science: Free Thursday 2-5pm
Museum of Fine Arts, Houston: Free Thursdays
Family Fun in Houston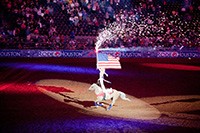 Check out the largest indoor livestock exhibition and rodeo in the world at The Houston Livestock Show and Rodeo, also called RodeoHouston or HSLR. From music lineups to BBQ contests to livestock and horse shows, the rodeo is an endless mix of both spectator activities and hands-on fun.
Relish in the Houston Symphony's delightful sounds. Family Concerts occur throughout the year.
Catch a game no matter the season. If you're a sports lover, this town is for you! From baseball games cheering on the Astros to basketball games chanting for the Rockets to fall football games rooting for the Texans, each season has a team worth backing and a game worth seeing in person.
Head to Hermann Park, a 445-acre urban park and a Nickelodeon Parents' Pick Award winner. Ride the train, wander through the Japanese Garden, or pedal boat on the lake. What's not to love?
Spend the day at the Children's Museum of Houston, featuring 90,000 square feet of interactive and bilingual exhibits, covering science and technology, culture, history, health, and the arts. Little ones can create news reports at Kidtropolis, run their own city, or dream up and build unique gadgets.
The kid-friendly Houston Museum of Natural Science is always a winner and is consistently ranked as one of the most visited museums on the county. With a 3D IMAX Theater, butterfly exhibit, prehistoric creators on display, and a planetarium, we know why this one resonates with the heart of Americans!
Parents Magazine called the Houston Zoo one of the "10 Best Zoos" in the nation. We love that it features a children's zoo and an aquarium.
Rev your engines at Speedy's Fast Track, a family entertainment center with go-karts, miniature golf, an arcade, and laser tag.
Shop Til You Drop
Head over to The Galleria, a sprawling 2.4-million-square-foot mall with more than 400 stores, 70 of which are exclusive to Houston, and 60+ dining options. (Don't forget to wear your tennis shoes for all that walking!)
Eat Like a King in Houston
From chicken-fried steak to barbecue, you'll never go hungry in this town. With 10,000 restaurants representing dishes from more than 70 countries, Houston is ethnically diverse when it comes to food. In fact, Food & Wine magazine named it the "newest capital of great food."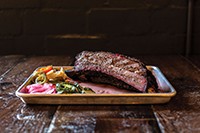 Sip on a craft cocktail at the all-day Latin spot, Tropicales, with a lush patio and incredible bites. If fresh, raw fish is your thing, try Kata Robata, an upscale sushi and Japanese tapas restaurant. For a more laidback vibe, head over to Rudyard's, a bar called the 'Living room of Montrose," for brews on tap, pizzas, and sandwiches. Truth BBQ is also a favorite and was named #10 in Texas Monthly's roundup of the Top 50 BBQ spots in the state. Then there's also crispy Southern Fried Chicken at Barbecue Inn, plus all your comfort food favs.
Enjoy the best of the best of Tex-Mex joints located throughout Houston because this city has a love affair with good food. There's The Original Ninfa's on Navigation, Gringos, Chuy's, Pappasitos, Teotihuacan Mexican Café and dozens more. Let's face it, you'll never be short on where to grab a something spicy, chewy, and bursting with flavor!
If you've got a hankering for a great cut of meat—whether that's a slice of Japanese Kobe beef or a thick bone-in ribeye—trust us, you're in the right place. Houston houses several steakhouses that will suit any budget. From Perry's Steakhouse and Grille to Pappas Bros. to Steak 48 to Killen's STQ, you'll be eating like royalty, not to mention bursting at the seams with all the delicious side offerings like lobster mac & cheese, sautéed spinach, fried oysters, and polenta.
For those with a sweet tooth, we recommend Dolce Neve, which serves up scoops of local gelato, or grabbing a cone at Hank's Ice Cream Parlor. Y-U-M.
Up next: Explore The Best of Pearland.